AI Non Fiction filmmaking 2024:
a True Story
H ow will AI be used in 2024 to assist non-fiction filmmakers? Here's a case.
A 25-year-old policeman in Kumasi, the Gold Coast (Ghana) wins a scholarship in 1955 to study in the UK. He's excited eyeing up opportunities.

But he is also nervous. He has never been to England before and he doesn't know what to expect. On arrival he's faced with several problems and soon is literally drowning in challenges. London is not what he and colleagues were told it would be.

Racism, the colour bar, he struggles and looks to a new career. He starts a family with his new wife who joins him from Ghana. Their children find themselves in and out of foster care. But he develops a reputation for being a Mr fixer in South London.
Eventually, London takes its toll and he returns with his children to Ghana. There, he's courted by politicians and CEOs and is affecionately called Chairman - a recognisable phrase of endearment across West Africa . He will face fresh problems with the military junta's coup d'état in 1979 (Click here chilling audio ).

A recently discovered cache of letters, correspondence and this passport he kept in a suitcase reveal a colourful life; that he travelled to the UK on a Citizen of the United Kingdom and Colonies (CUKC) passport that classified him as a British subject and eventually in 1983 as a citizen.
So how can this story that is representative of several people be told with little to know media? How does AI impact the makng of non-fiction stories? What are its limitations and challenges, ethically and professionally, and what of audiences's reactions in general and the industry in particularly?
By 2030 such an enquiry may be a moot point given Gen AI's increasing use and development. Can Gen AI ethically substitute real photographic and audio/video archive? And what manner of evidential research meets a standard? And what of the new skillset of the linguistics of "prompts" and use of markers? Furthemore, what guardrails and ethical guidelines are required?
Associate Professor, Journalist and filmmaker Dr. David Dunkley Gyimah behind this personal biopic of his father has presented his research and the trailer to the UK's Channel 4 Board, The British Screen Forum and universities.
The dearth of archive and richness of stories like this one make AI storytelling suitable . Fifty percent of the Chairman promo trailer, as well as the poster image above is AI generated. Dr Gyimah is a veteran innovator, the first Brit to win the US Batten Awards, that the Guardian newspaper would win five years later.
Today, Brits of African origin are the largest Black group in the UK and many of their rich stories remain untold. Could AI play a role, pedagogical too in historical factual storytelling predicated on practices such as the 1900s artist-painter as newsmaker.
Dr Gyimah is working with other academics. The feedback has been overwhelming and several readers are looking to creating their own stories Ai in storytelling is set to be as disruptive as it will be creative in 2024.
If you're an academic or hosting an event, or a commissioner and would like to know more get in touch. If you're able to sponsor and would like to be attached to the completion of this project do get in touch below. Think of the Chairman as a real but different life version of BBC's popular series "Luther" with actor Idris Elba, in the 1950s .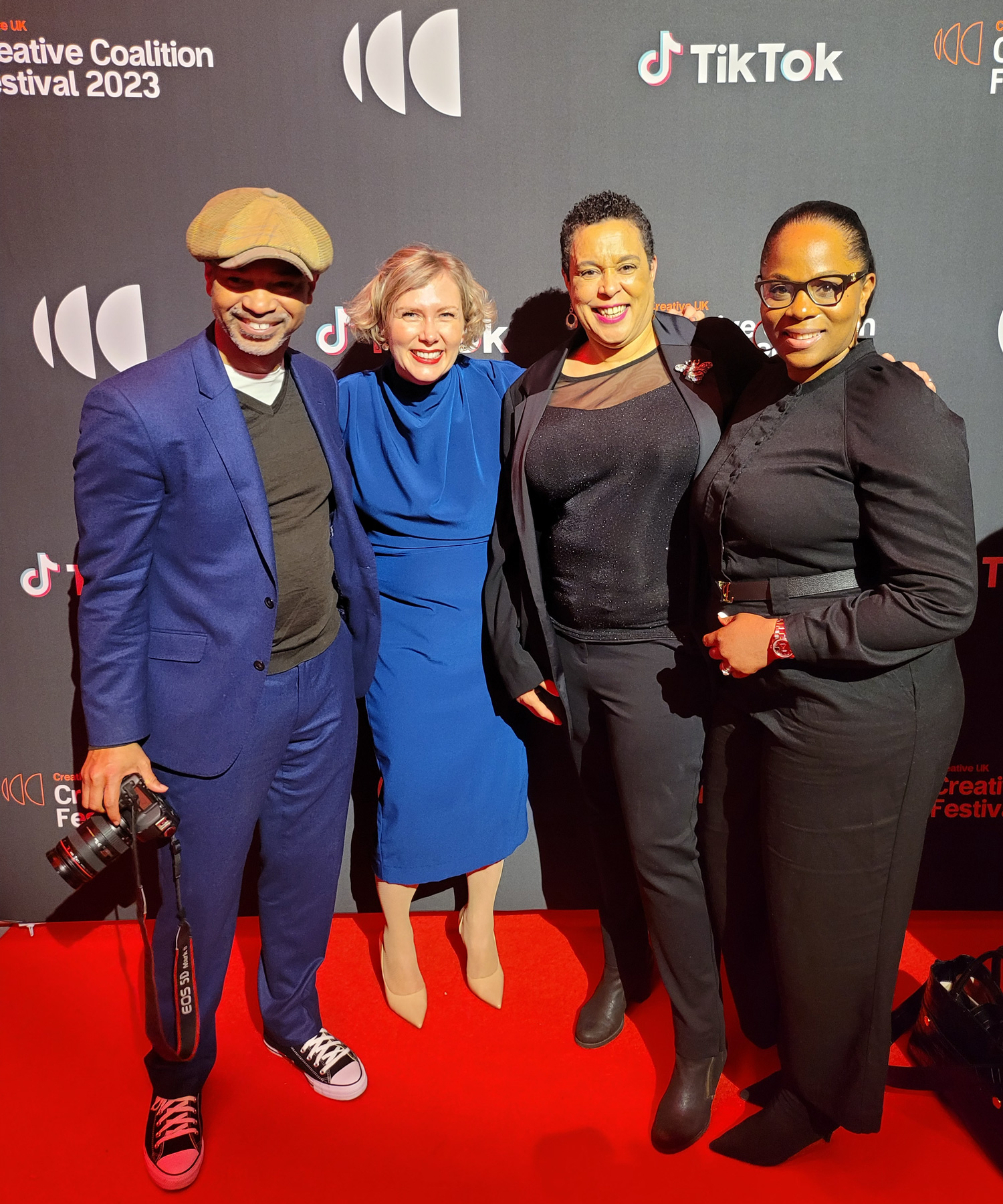 The AI Filmmaker
D avid speaking at the UK's Creative Coalition Festival 2023. He 's an expert in innovation and storytelling, an academic (Reader at Cardiff University), international award-winning videojournalist, global speaker at venues like SXSW, international trainer and former artist in residence at the Southbank Centre. He's reported from Apartheid South Africa for the BBC Caribbean/ R4/ African and World Service, the Syrian border, and has a deep understanding of the intersection of technology, creativity, and the human experience. A graduate in Chemistry and Maths, his PhD is in the cogntive science of storytelling and journalism which fuses cinema and future of journalism in which he presents persuasive evidence in his global study with key award-winning journalists how a new language, has emerged. David's been working in the AI space for the last eight years in the UK and Canada. Chairman is a project indicative of the fusion of academic research in AI and industry.
* He's the first Brit to win the Knight Batten Award for Innovation in Journalism.
* He's given key speeches at SXSW, BBC Execs etc.
* He's trained over 1,000 video journalists around the world.
Know more Play 60 Sec Sample
You can get involved by staying tuned for updates which includes details of building an AI film community and Masterclasses. Not spamming is appreciated
I send thoughtful and caring emails
Your Feedback. Thank you.

Industry feedback on David's work
Inspiring! A one man hurricane
Apple Inc.
A Fertile imagination and distinctive aesthetic.
Author, Peter Lee-Wright
Documentary Handbook
He is an original and someone I've always been able to depend upon
John Snow
Journalist and Broadcaster